Charge, Control or Monitor
access to your Wi-Fi network

Secure internet
Wifi Timer is ideal software for locations like: Airports, In-flight wifi, Schools, Hotels, Shopping malls, Marinas, Resorts, Large companies, Business centers, Libraries, Cafes, Coffee Shops, Camp Sites, Garage service centers, Train stations…

Usage charging
End users can access the web by purchasing a prepaid voucher or pay on the spot with the credit card.
The Payment system is operating 24/7 and is free of any staff handling.

Profit stream
Aside from your core business, you should always be thinking about ways to diversify your earnings in order to boost your profits.
iWifi Timer Administrator's interface
iWifi Timer allows you to set your own pricing and session time structures. In fact, every option for the end user can be restricted and set in advance. You can enable customers to use their prepaid time credit for single or multiple log-in sessions. Additionally, you can restrict users' download speed so they don't use up all available bandwidth.
All of this is available trough administrator's application where you can pre-set Network operators, Organisation units, Distributors, Point of sales, Sales agents and Terminals. You can also manage tax rates, regions, countries and districts in order to adapt selling activities to various market conditions.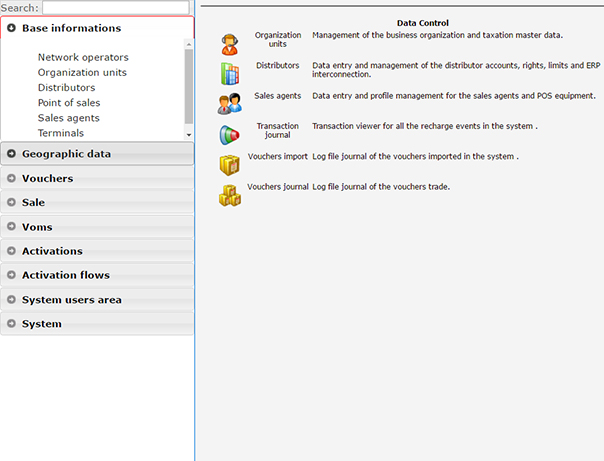 Analytics
Administrator's interface consists of the relevant part of every business subject who wants to be profitable on the market – insight into business transactions per request.
With this in mind, analytics of sales and transactions are the main part of keeping your complete business picture under control.
Data can be extracted to the slightest details, for instance, sales for the 2nd month, presented for the specified organizational unit for communication channel – POS.
To support successful management processes, the system provides financial digital dashboard – access in real-time to the following data:
++ Sales according to channel
++ Total sales and income by quarter
++ Sales by months, days and hours
++ Sales by distribution type (WAP, SMS, USSD, …)
++ Current value of vouchers in the database
Complete data about recharging is, of course, written in a database and available for further analytics processing needed for reports, export to Enterprise Resource Planning system (e.g. SAP, Navision, or similar) or export to some other external system.
Voucher management and distribution
Voucher management is providing support for the whole voucher lifecycle, from generation, delivery to the printing company (or system for electronic distribution) as well as activation on user request.
In the first place, housekeeping of vouchers automatic procedures is scheduled to execute periodical actions like voucher archiving.
Second, voucher activation channel can be USSD, IVR, Web, WAP, SMS or Customer care.
Following parameters are set to a user account:
++ Amount of the main account
++ The expiry date of the account
++ Service counters value (optional, billing depended)
++ Tariff switch (optional, billing dependent)
Third, voucher activation reporting generation and distribution statistics can be scheduled. Once generated reports can be automatically sent via e-mail to platform users.
Points of voucher distribution involve Operator as the main supplier of electronic vouchers, Operator directorates, commission agents, agents and end users.
In conclusion, presented software system provides support for the business model for each of the involved parties.
Distribution of electronic vouchers is possible through following interfaces: (GPRS) POS, SMS, USSD, WAP, HTML.
Each interface has its own technical characteristics and requirements, but all are supported by the business process in an equally functional way.